May 6, 2015 - Wednesday
Granite Park Chalet meals
Our pre-order retail menu is now available!
This is the best way to take some weight out of your backpack and simplify your meals at Granite Park Chalet. If you don't feel like carrying food on your hike, we have carefully picked some delicious backpacking meals for you. Place your order at least two weeks before your reservation and we can have everything waiting for you at the chalet.
Happy Hiking!
January 16, 2015 - Friday
New for 2015
Trailhead Shuttle Service
Starting this summer we are planning a trailhead shuttle service for chalet guests. Traveling and parking along Going to the Sun Road is becoming more and more challenging for backcountry adventurers, let us help you with a ride from your hotel to the trailhead and back again.
Many of the details about the chalet shuttle are still being planned out, but we do know that the fares will be low and reasonable. Shuttle service will be by reservation. Dropoff and pickup can be arranged for all chalet trailheads along Going to the Sun Road. And we can provide overnight parking for your vehicle in the West Glacier area.
We will offer morning pick ups for chalet guests from hotels near West Glacier and Apgar, and drive you to the chalet trailhead. Dropoffs include the Sperry Trail at Lake McDonald Lodge, the Loop Trail at the Loop, and the Highline Trail at Logan Pass.
East side service to the Gunsight Pass trail at Jackson Glacier Overlook and the east entrance at St. Mary will also be available with an additional mileage fee.
In the afternoon on the day you depart, we can meet you at the trailhead and deliver you back to your hotel or vehicle.
If a ride to the trail is something that can help you with your chalet adventure this summer, call or Email the reservation office to make arrangements.
Happy Hiking
December 23, 2014 - Tuesday
Merry Christmas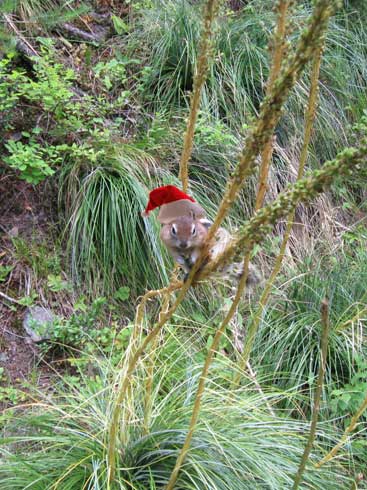 While some people like to treat Christmas shopping like an extreme sport, I like relax instead and reminisce about the great hiking, amazing locations and wacky squirrel encounters. Makes me look forward to seeing more amazing things next year.
We enjoyed a wonderful centennial year, with a beautiful summer of hiking, old friends, new friends, and celebrations. Thank you for being a part of it.
We will not be keeping regular office hours until the new year, but we will return messages and Emails if you need anything.
Merry Christmas
Look up old news:
2007 2008 2009 2010 2011 2012 2013 2014 2015