January 16, 2015 - Friday
New for 2015
Trailhead Shuttle Service
Starting this summer we are planning a trailhead shuttle service for chalet guests. Traveling and parking along Going to the Sun Road is becoming more and more challenging for backcountry adventurers, let us help you with a ride from your hotel to the trailhead and back again.
Many of the details about the chalet shuttle are still being planned out, but we do know that the fares will be low and reasonable. Shuttle service will be by reservation. Dropoff and pickup can be arranged for all chalet trailheads along Going to the Sun Road. And we can provide overnight parking for your vehicle in the West Glacier area.
We will offer morning pick ups for chalet guests from hotels near West Glacier and Apgar, and drive you to the chalet trailhead. Dropoffs include the Sperry Trail at Lake McDonald Lodge, the Loop Trail at the Loop, and the Highline Trail at Logan Pass.
East side service to the Gunsight Pass trail at Jackson Glacier Overlook and the east entrance at St. Mary will also be available with an additional mileage fee.
In the afternoon on the day you depart, we can meet you at the trailhead and deliver you back to your hotel or vehicle.
If a ride to the trail is something that can help you with your chalet adventure this summer, call or Email the reservation office to make arrangements.
Happy Hiking
December 23, 2014 - Tuesday
Merry Christmas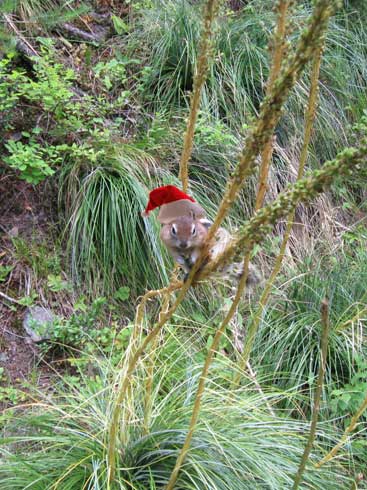 While some people like to treat Christmas shopping like an extreme sport, I like relax instead and reminisce about the great hiking, amazing locations and wacky squirrel encounters. Makes me look forward to seeing more amazing things next year.
We enjoyed a wonderful centennial year, with a beautiful summer of hiking, old friends, new friends, and celebrations. Thank you for being a part of it.
We will not be keeping regular office hours until the new year, but we will return messages and Emails if you need anything.
Merry Christmas
November 17, 2014 - Monday
Winter office hours.
We are settling down for the winter season. If you have business with your reservation, questions that need answering, or you are checking for new openings, here is what you can expect from the office.
Winter office hours will be 9:am to 1:pm, weekdays, mountain time zone.
We get in earlier on some mornings, and there is often stuff to do that keeps us here in the afternoon, so it never hurts to try calling. But we promise to have someone standing by and coffeed up by 9am at the latest. To reach us by phone, mornings will be the best time. 888-345-2649
Email is always good too: office@GraniteParkChalet.com
If you are checking the availability calendar for new opportunities, keep an eye on the date and time at the top. We will update the calendar whenever we have changes or openings.
Stay warm.
October 30, 2014 - Thursday
Chalet reservations
Thank you so much for your chalet enthusiasm! We have had a busy week helping you with your reservations. We are continually amazed at how many people have a passion for the Glacier backcountry. Thank you for your patience as we personally worked through everyone's requests.
A few of the Emails we are trying to send are being returned to us undeliverable. This is usually because of typos or errors in the Email address. If you have not heard back on your request, this may have happened. Be sure to check your junk mail folder too. Successful reservations will also receive a statement in the US Mail.
If we were not able to award you a reservation, please check availability through our website from time to time this winter. Travel plans can change and new opportunities could arise. We do not keep waiting lists, any opening created by cancellation will be available first come first served.
Thank You
October 26, 2014 - Sunday
Hints for 2015 reservations
We are excited to be talking to all the chalet enthusiasts soon. These small hotels can sell out very quickly, and it can be hard to communicate with us on these first days reservations are accepted. Here are some pointers to help everyone out.
The online reservation request form will become available at 8:00am Mountain Time Zone on Monday the 27th. Use your browser reload button to get access to the form after 8:00am. We will begin answering the toll free phone line at the same time.
We think the online form is the fastest and easiest way to make a reservation. Send your request in the morning and get on with your day. We will Email you back as soon as we handle your request.
The phone line is your second best choice for making a reservation. 888-345-2649. We will be answering the phone from 8:00 to 5:00 this week. Expect the phone line to be very congested and plan to spend some time re-dialing upon getting a busy signal. Please do not bother calling the National Park Service or other area hotels, they cannot help you with a chalet reservation. If you are having difficulty reaching us, patience and persistence is the only solution.
The phone line is best for large parties or complicated reservations. If you are able to describe your desired reservation through the form, you do not need to call. Let's save the phone line for the good people that do not have the luxury of a computer or internet connection. Once you have made your request, a phone call cannot speed up the process or get you feedback any faster.
If you want reservations at both Sperry Chalet and Granite Park Chalet, you will have to visit both websites and submit two reservation requests.
How we handle your reservation request:
We work through the request queue in the order submitted, and all requests are staff reviewed. Our rule of thumb is to try to error on the side of creating a reservation, even if it is not the first choice of dates or best room arrangement.
First, we will check your first choice of dates for availability. If we have space for your party we will hold it for you and send you a confirmation.
If we can't fit you in on your first choice, we will look to your second choice, or the range of dates you have available. We will try our best to find openings for you in that time range.
Sometimes we don't have vacancy on all the nights of a multiple night stay. In that case we will try to create a reservation for a shorter stay. We think a less than perfect reservation is still better than no reservation at all.
Once in a while we can find an opening for you by adjusting the number of rooms for your party. If you are not comfortable bunking with your friends, let us know in the comments so we don't create a reservation you can't use.
Depending on how many people are trying to contact us, it may take a day, and in some cases two, before you hear back from us.
Successful reservation requests will receive a reply Email and a statement in the US mail. Unsuccessful requests will be replied to by Email.
Large parties and groups.
Large groups of people can be especially challenging to reserve into small and popular hotels like ours. If you do not have flexibility in your travel dates, try to be flexible with the number of rooms and how your party can bunk together.
Keep in mind, we will not create reservations for more than half the capacity of the chalets for any one party. That is 17 people or 6 rooms at Granite Park Chalet. 21 people or 8 rooms at Sperry Chalet. If your party is larger than that, please use the phone for your reservation. We will need assurances that you are not scalping the reservation or holding rooms that you may not use.
We do not need to hear from everyone in your party. Designate one person to send the request and be our point of contact for your group.
How to improve your chances for success:
Common sense and statistics can help you some.
The more flexibility in travel dates, the more possibilities for reservations exist.
The fewer rooms you need, the more likely we will have them available.
The first week in August traditionally has the highest demand. (The week before and after are very popular too.) Other dates may have more opportunities.
Good Luck!
Look up old news:
2007 2008 2009 2010 2011 2012 2013 2014 2015