January 12, 2017 - Thursday
It has been a fun week hearing from so many excited people. Thanks for being enthusiastic for the chalets. It is heartbreaking that we are not able to award reservations to everyone that wishes to stay with us. Do check our availability occasionally through the spring, any openings from cancellation will be available to the next request.
If you have not heard back on the status of your reservation request, sorry, we tried to send an Email but sometimes things go wrong. All successful reservations will also receive a confirmation by post.
Happy Hiking!
January 2, 2017 - Monday
Reservations open on January 9th
We will begin accepting reservations for the 2017 season on Monday, January 9th, at 8:am mountain time zone.
Use the reservation request form on this website. You will find it on the reservations link on the menu. This is the fastest and easiest way to send your request. We will get back to you by Email as soon as we can.
First come first served will be strictly enforced. The order requests are put into our database is the order we will process them. Using the form on our website will be the fastest and easiest way to get onto that list.
We do not recommend using the phone, Email, telegram, pony express, or any other way of reaching us. The only thing we can do with these requests is enter them into the website on your behalf. This will be slower and less reliable than doing it yourself online.
If you need it, the office phone is: 888-345-2649.
We will not be able to create a reservation by phone, but we can enter your information into our online form on your behalf or answer questions. Expect delays and busy signals if you attempt to reach us by phone.
The chalets are very popular, we expect to sell out all available space very quickly. You can improve your chances of success with these strategies:
Be flexible with your travel and stay dates. The more options for dates you give us, the more opportunities exist for you.
Requesting fewer rooms can make more opportunities available. We all rough it in the backcountry a little. Sharing a room with your friends can be part of the fun.
The first week in August traditionally has the highest demand. (The week before and after are very popular too.) Other times during our season may have more opportunities.
Double check your form before you hit send. I know you are excited and in a hurry to get into the queue, but simple mistakes can thwart your reservation entirely. These requests cant be changed once they are sent. We have seen mistakes such as misspelling an Email address or contact info so we cant get back to you, not getting the party size right, or even forgetting to tell us the month for the reservation. A quick double check can save the day.
Good Luck!
December 6, 2016 - Tuesday
2017 Fares
With the help of the National Park Service, we now have all the fares and operating dates for the 2017 season approved.
Granite Park Chalet:
$106 for the first person in a room, $80 for each additional person.
Open from June 27 through September 10.
Sperry Chalet:
$222 for the first person in a room, $150 for each additional person.
Open from July 9 through September 10.
Reservations open on January 9th, 8:00am mountain time. The best, fastest, easiest way to make your reservation will be through this website.
We are looking forward to hearing from you in the new year. Until then, enjoy your holidays!
Merry Christmas from the backcountry of Glacier National Park.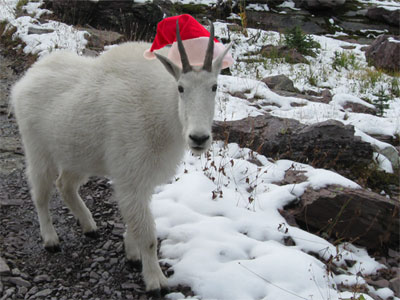 November 7, 2016 - Monday
Planning ahead to 2017
If you are thinking about a chalet reservation for the summer of 2017, here are some dates to know:
Reservations open on January 9th. 8:00am Mountain time zone.
Granite Park Chalet will be open June 27 through September 10.
Sperry Chalet will be open July 9 through September 10.
We hope you will get a chance to come and visit.
September 10, 2016 - Saturday
End of summer
Someone give this summer a speeding ticket! It went by too fast. As we close down another amazing season I feel super grateful for all the incredible hiking, the adventures, the bears, the sunsets, the leisurely shuttle rides, and most of all the incredible people that visited us here at the chalets. It is a lesson I love learning again and again, you do meet the nicest people in the mountains. (High five to Pete, fist bump to Sue & Al, a hug to Elena, and a wave at Karen.)
We will be on light duty at the office for a while. Send an Email if you need anything. If you are looking forward to the 2017 season, the date to circle on your calendar is January 9th. Reservations will open then. We will put information about our operating dates and rates on the website through the fall as we learn it.
Happy trails!
August 29, 2016 - Monday
Swiftcurrent Pass Trail Open
The trail closure on the Swiftcurrent Pass Trail was lifted Monday afternoon.
Remember to hike with your bear spray in reach and remain alert on the trail.
August 28, 2016 - Sunday
Swiftcurrent Pass Trail closed
And now the bears are disrupting plans on the Swiftcurrent Pass Trail. If you were planning to come or go between Granite Park Chalet and Many Glacier, it would be best to come up with a plan B.
It is always a good idea to check trail status reports either online or at a visitor center before you go hiking. We will let you know when our information changes.
Be safe out there.
August 25, 2016 - Thursday
We would like everyone to know that the HIGHLINE TRAIL reopened at 1:00pm on Thursday, August 25.
Happy Hiking, everyone!
Kathie
August 21, 2016 - Sunday
Office hours
Starting Monday, we will be by the phone from 9:00am to 4:00pm.
We are updating our office hours with the late summer season. If you need a trailhead shuttle, or a tweak to your reservation, you can reach us by phone from 9 to 4 every day. (Mountain Time Zone.)
Happy Hiking.
August 19, 2016 - Friday
Highline Trail is closed
For your safety the Highline Trail between Logan Pass and Granite Park Chalet is closed. Closed on Friday, August 19th due to increased bear activity around a carcass found near the trail. We do not know how long this closure will last, but it will be best for everyone if we just leave the bears alone and not get too close to their little snack.
Granite Park Chalet is open, we can be reached via The Loop Trail on the west side of the park, and from the Swiftcurrent Pass Trail on the east side of the park. The Highline Trail north of Granite Park Chalet remains open, and so is the Swiftcurrent Lookout. We still have lots of great hiking available, it has been a beautiful summer and we can't wait to see you up here.
To stay up to date on trail status, you can check the NPS trail status reports online here:
https://www.nps.gov/glac/planyourvisit/trailstatusreports.htm
You can also get up to date trail information from any park visitor center or entrance station. We will also share any info with you right here when we learn more about the Highline Trail.
Happy hiking and stay safe out there.
Look up old news:
2007 2008 2009 2010 2011 2012 2013 2014 2015 2016 2017