Guided Interpretive Workshops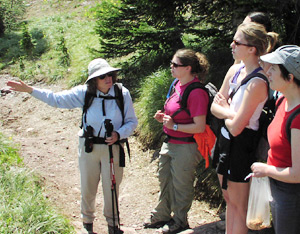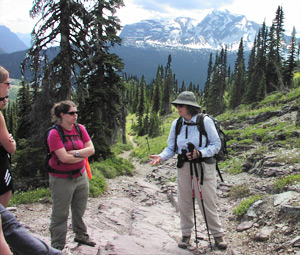 Granite Park Chalet is uniquely suited for naturalist outings led by trained experts with many years of experience in Glacier National Park. Few other places in North America afford the opportunity provided by the Chalet's location for park visitors to experience first hand the natural world in an unbroken ecosystem.
July 13 and 14
Sold Out
July 15 and 16
Sold Out
July 25 and 26
Sold Out
July 26 and 27
Sold Out
September 2 and 3
Sold Out
September 3 and 4
Sold Out
Aug 31 and Sept 1
Sold Out
August 13 and 14
Sold Out
Each Workshop includes:
Introductory evening overview session.
All day interpretive workshop, highlighting specific features in the heart of Glacier National Park's unequaled scenery!
Wrap up evening session to be enjoyed by all.
Complimentary large bottle of water and snack provided.
Costs:
$60.00 per person in addition to the required two night chalet reservation.
Space is limited and reservations are required.
All workshops take place rain or shine.
Cancellations
Full payment for any interpretive hikes is required within two weeks of booking and in advance of the chalet stay.
Deposits for canceled interpretive hikes will be refunded if the reservation is filled by another guest.
The charge for a canceled workshop is non-refundable if we are unable to re fill the vacancy.
To reserve your space or for more information, call the Granite Park Chalet reservation office: 1-888-345-2649
---
Alpine Wildflower Workshop
Join a former National Park Service naturalist for an alpine wildflower experience with outstanding mountain scenery all around. Observe physical factors of the environment to which alpine plants have successfully adapted. Rubber roots, hairy stems, underground flower buds, solar collecting flower blossoms, mature plants, growing young plants, and cushion and rosette growth forms, all enable these wonderful plants to survive in this beautiful, but harsh landscape.
Depending on the flowers in bloom, Swiftcurrent Fire Lookout Trail, or the Grinnell Glacier Overlook will be used to view the rocky alpine species. Both of these trails gain approximately a thousand feet in elevation. Since we are identifying plants and flowers the walking pace is slow.
Hand lenses are nice to have. A few lenses may be borrowed. A simple identification key will be provided for use during the workshop. Feel free to bring a favorite plant identification book if you have one.
Your guide will be Janet Paul Bones, a former ranger naturalist in Glacier National Park, a teacher and presenter for the Smithsonian Institute and the Glacier Institute. She has been teaching field classes in Glacier National Park since 1984. Her longtime commitment to education and her extensive experience in Glacier National Park make this an extraordinary opportunity.
Hiking Level: Moderate.
Geology Workshop
The Geology Workshop comprises an evening orientation session on the Geology of Glacier National Park, two half-day field trips led by a trained geologist and a wrap up session in the evening.
Field Trip #1: Grinnell Glacier Overlook Hike: "Glacial Recession in a Changing Climate, and the Precambrian Geology of Glacier National Park"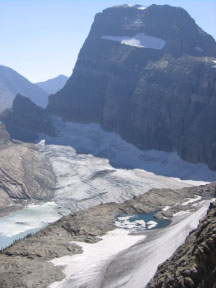 Originating at Granite Park Chalet, a morning field trip will take participants along the Highline Trail to the Grinnell Glacier Overlook to see a spectacular view of Grinnell Glacier, one the largest of Glacier Park's remaining glaciers. The group will hike along the great glacial aręte that forms the crest of the Continental Divide - "the backbone" to Native Americans. The field trip will emphasize recent US Geological Survey research focusing on the rapid recession of Glacier Park's glaciers due to the current global warming trend. Grinnell Glacier is one of the largest remaining glaciers in Glacier Park and one of the best examples of glacial recession in the United States. The group will continue discussion on the unique Precambrian geology of Glacier Park and its place in the geologic development of the North American continent. A striking and well-exposed sequence of algal stromatolites (fossil algae), red and green argillites, and tan to gray dolomites of the Snowslip and Helena Formations, will be observed during the hike. Most geologists theorize that these rocks are good evidence that the earth's atmosphere was quite different during the Precambrian. An atmosphere rich in CO2 may have allowed for the growth of massive algal colonies such as those preserved in the Precambrian rocks of Glacier National Park. The group will also discuss plate tectonics and the importance of the Lewis Thrust Fault in Glacier Park's geologic history.
Field Trip #2: Swiftcurrent Pass Hike: "Geology in the Granite Park and Swiftcurrent Pass Areas"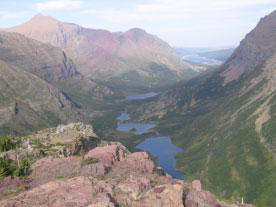 During the afternoon, our geologist will guide participants over the Precambrian basalt flows at Granite Park and ascend the Swiftcurrent Pass Trail to its highest elevation above the chalet where the incredible glacial landscape of the Upper Swiftcurrent Valley can be viewed to the east. The focus of this hike will be to observe the large lava flows visible in the area, and to gain a better understanding of the geologic forces that create glacial landscapes. The Purcell Lava represents an ancient sequence of volcanic pillow basalts deposited on the seafloor approximately one billion years ago. The group will discuss the environment of deposition of these unusual volcanic rocks and how they have come to be located at the crest of the Continental Divide in Glacier National Park. From the top of Swiftcurrent Pass the group will view the Swiftcurrent Glacier and learn to identify features of the glacial landscape sculpted by moving ice during the last Ice Age. Swiftcurrent Pass is an excellent vantage point for this discussion and also provides a good overview of Glacier's geologic history. The peaks of Waterton National Park, Canada, to the north, the Blackfeet Indian Reservation to the east, and the edge of the great overthrust, known as the Lewis Thrust Fault, can be seen from Swiftcurrent Pass. It is a spectacular view not to be missed.
Jeff Kuhn will be your guide for this workshop. Jeff is a trained geologist and a long-time veteran of Glacier National Park. He has worked seasonal positions as a Back Country Ranger in the Belly River area, fought fires as a member of the Glacier National Park Hot Shot Crew, and worked as an employee at Many Glacier Hotel. Jeff is currently employed by the Montana Department of Environmental Quality as a program manager and hydrogeologist. We invite you to come and explore Glacier's awesome and dynamic natural world first hand with an experienced geologist.
Hiking Level: Moderate to strenuous.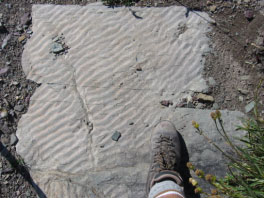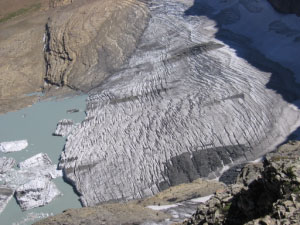 Mountaintop Megafauna - Goats, Grizz, and Wolverines
The undisputed masters of Glacier's soaring cliffs and knife-edge ridges are mountain goats, the symbol of the park. Winter claims the upper elevations here for half the year, coating the rocky ledges with snow and ice. Yet when that happens, the sure-footed goats begin using even steeper terrain than during the warmer months. How do they do it? And why? What are the adaptations that allow goats to endure year-round at the upper limits of physical existence for a large mammal? What do they find to eat in a world buried beneath layers of white? Douglas Chadwick, who studied herds for three years in Glacier and four years in nearby ranges, will lead discussions and field outings aimed at explaining mountain goat ecology and the unusual social behavior so important to the survival of this species.
If there is another wild inhabitant of the park that might claim to keep up with goats among the peaks, it is the wolverine. Over the past five years, a groundbreaking study within the park, the Glacier Wolverine Project, has revealed many secrets of this little-known predator/scavenger. Chadwick joined the research effort as a volunteer and has often followed males, females, and their offspring around Granite Park, part of the park population's core range. Always on the move across the mountaintops - one even summited the park's tallest peak, Mount Cleveland, in midwinter this year - wolverines are hard to find and harder to follow. Yet Glacier probably offers the best opportunity in the world for seeing them. Chadwick will discuss their enormous home ranges, their ties to high elevations and deep snows, and surprising new discoveries about the social relationships of these supposedly solitary carnivores.
Last, though anything but least, is the grizzly. Granite Park supports a variety of top quality habitat for the great silver-tipped bears, and they frequent the slopes during autumn to forage on berries and the bulbs of avalanche lilies. The group will examine signs of recent feeding, learn about well-used travel routes across the Great Divide, and discuss details of the grizzly's survival strategies, its complex behavior, and its important role as a keystone species within the park's high country.
Douglas H. Chadwick is a wildlife biologist and the author of more than 400 articles for popular magazines and 10 books on natural history and conservation. A longtime contributor to National Geographic, he travels around the world reporting on species from whales and weaver ants to snow leopards and gorillas. But his home and heart remain in the Glacier Park area, where he hikes hundreds of miles each year.
Suggested Reading from the author:

A Beast the Color of Winter: The Mountain Goat Observed. University of Nebraska Press. 2002.
True Grizz. Sierra Club Books. 2003.
Growing up Grizzly. Falcon Guides/Globe Pequot Press 2007
Natural History
This workshop will provide an overview of the natural history of the spectacular Granite Park Chalet area, and will include everything "from rocks to stars, and all things in between," with emphasis on birds, mammals, and flora. We will hike to Grinnell Glacier Overlook, as well as toward Swiftcurrent and Ahearn Passes; hikes will be slow-paced, allowing ample opportunities for photography, comments, and discussion.
Life histories, food habits, and adaptations of plants and animals to this sometimes harsh subalpine environment will be discussed, as will history of the area, geology, archeology, use by Native Americans, tracks and sign, and observations of flora and fauna. This is good habitat for unusual alpine vegetation, and for mammals such as grizzlies, wolverines, mountain goats and sheep, pikas, and hoary marmots. Golden eagles, rosy finches, pipits, blue grouse, and nesting white-crowned and fox sparrow s may be observed. We will talk about Park management policies concerning these resources including bears, fire, exotic plant control programs, and back-country camping and use policies. Balancing visitor use with these sometimes fragile natural resources is an on-going area of concern and high priority.
Evening sessions will include a discussion of the events leading up to, and an account of the 1967 "night of the grizzlies", and subsequent wildlife management policies. Weather permitting one evening session we will do some star-gazing from this light-pollution free area, pointing out constellations, planets, and other astronomical features.
Dave Shea spent 36 seasons in Glacier's backcountry as a Backcountry Ranger, Biological Science Technician, and botanist, and has explored every corner of the Park. He was present at the chalet during the "night of the grizzlies" incident. He has authored several publications dealing with indigenous Park flora and fauna, and some of this material such as wildlife checklists will be part of the workshop handouts. He has taught wildlife biology and conservation courses at three different colleges, and with the Glacier Institute for 25 years.
Birding at Tree Line
Join Audubon Educator and former National Park Service naturalist, Ashley Mason, for a look at Glacier's more fascinating birds who use the alpine, the subalpine and the edge in between. Participants will explore the spectacular high country around the Chalet in search of these amazing bird species while learning some of the fascinating stories of their inextricable relationship with the landscape. Along the trail participants will also gain insight into local wildflowers, wildlife, geology, and Park history.
Binoculars are essential for this course. The instructor will have a spotting scope and extra pair of binoculars available. Digital images and bird songs will be provided to aid in identification, as well as bird check lists. Feel free to bring a favorite bird identification book if you have one.
Depending on the weather and bird species present, Swift Current Pass and Swift Current Lookout Trails, as well as the Chalet vicinity will be used to look for these bird species. These trails are moderate in difficulty. We are identifying birds, so the walking pace is slow.
Ashley Mason is former Glacier National Park ranger naturalist. She is also an instructor for Road Scholar and The Glacier Institute. In addition, she is currently the Conservation Educator for Flathead Audubon Society and was the 2012 Audubon Educator of the Year. She has been teaching field classes in and around Glacier National Park since 1992. She has a passion for taking the amazing and often complex stories of the landscape and distilling them into compelling stories for her students.
Hiking Level: Easy to Moderate.
100 Years at Granite Park... and Beyond!
A natural history exploration for families.
Families and people of all ages are invited to come have some fun with veteran naturalist and educator Ashley Mason. This workshop will be truly "hands-on" as we explore the geology, mammals, birds and human history of the spectacular Granite Park Chalet area. Activities will be geared toward multi-age audience and will include demonstrations, games, songs and costumes. All are welcome as long as you are a kid at heart!
Participants will use cookies, slime and other interesting props to learn about Glacier's amazing geological history. The spectacular but sometimes harsh subalpine environment provides a fascinating backdrop to discuss survival strategies, behavior and adaptations of those plants and animals that live there. Finally, a walk around the Chalet area will reveal some of the more interesting human history of the area.
Depending on the weather the Swiftcurrent Trail, or the Ahern Pass Trail as well as the Chalet Loop Trail will be used for hikes and activities. These trails are easy to moderate in difficulty and the pace will be moderate to slow.
Evening programs will include a fun interactive program on Pikas, Glacier's high country rabbit species (with costumes!).
Ashley Mason is former Glacier National Park ranger naturalist. She is also an instructor for Road Scholar and The Glacier Institute. In addition, she is currently the Conservation Educator for Flathead Audubon Society and was the 2012 Audubon Educator of the Year. She has been teaching field classes in and around Glacier National Park since 1992. She has a passion for taking the amazing and often complex stories of the landscape and distilling them into compelling stories for her students. She is especially interested in making conservation education fun and accessible for families and people of all backgrounds.
Hiking Level: Easy to Moderate.
Glacier's Cultural Legacy and the Blackfoot Confederacy
Join Jack Gladstone, "Montana's Troubadour," as he presents an indigenous perspective on Glacier National Park's Rocky Mountain Cultural Ecosystem. Participants will begin the day with an ascent to Swift Current Pass, while being introduced to the Blackfoot Confederacy – from their tribal divisions to their territorial range, their economy, and their bond with the buffalo. The Blackfoot way of life will also be developed through story and song. "Circle of Life" will introduce participants to tribal "kinship-centered traditions." Participants will learn of the wolf's role in Blackfeet Culture through songs, such as "Wolves of Ice and Snow." Stories such as "Napi Punishes a Rock," will also explain glacial anomalies.
At Swift Current Lookout, place names and stories will be shared. Windmaker Lake will be a topic of discussion for the presence of Coldmaker and "Windsucking Monster." The "Lakes Inside" (Upper and Lower St. Mary) bare evidence of glacial recession 20,00 years ago. The Two Medicine Drainage will amplify narratives of both Running Eagle Falls and White Fur and His Beaver Clan.
After lunch at the chalet, we will hike to Granite Park Campground, where native plants will be discussed for their food and medicinal value. Lower St. Mary Lake will be one among many sites that was used for the ceremonial planting of tobacco. While returning to Granite Park Chalet, Medicine Grizzly, Wolf, and Beaver stories will be shared along with human interactions, such as the Agreement of 1895 and the establishment of the park in 1910.
This is an easy to moderate hike.
Jack will entertain the evening guests drawing from over a quarter century as a performing/recording artist. He will share his perspective of kinship-centered tradition and both the clash and confluence of cultures in Montana.
Jack co-founded "Native America Speaks," Glacier National Park's acclaimed lecture series. Now in its 31st season, this program endures as the longest running indigenous speaker series in National Park history. An award-winning troubadour from Montana's Blackfeet Indian Nation, Jack is the first Montanan to receive the C.M. Russell Heritage Award, and was inducted into the University of Washington Alumni Hall of Fame for his contributions in the field of Communications. In February of 2015, the governor of Montana will honor Jack with a Humanities Award.